Once you get your first electric bike (e-bike), it's only natural that you can't wait to take it out for a spin. Or maybe you're a pro who is itching to go for a ride, or you just want to try it out while on holiday. Whatever the case, planning and preparing before hitting the trails is always a good idea.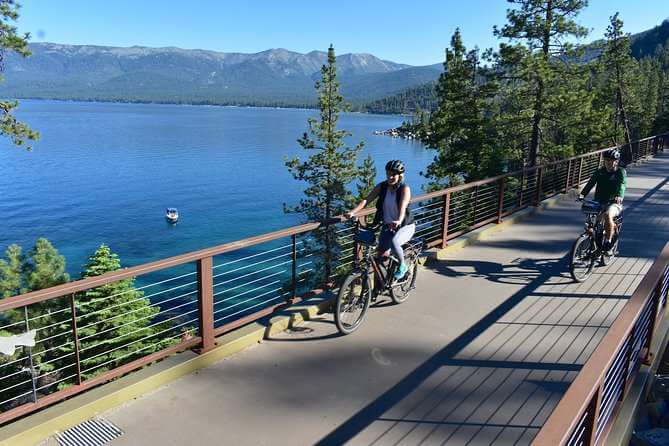 With the increasing popularity of e-bikes, it has become essential to educate riders, especially regarding where they can and cannot ride. It is crucial to keep to the trail and not stray from it. You may end up getting fined or worse, in an accident. Here are seven pieces of trail etiquette you should know before getting on your bike.
1. Know Your E-bike
The first thing you'd want to do is to make sure you know what class of e-bike you're riding. There are three classes of e-bikes. Class 1 bikes are only engaged with pedaling and can reach a maximum speed of 20 miles per hour. Class 2 e-bikes also top at 20 miles per hour but include a throttle that keeps the bike moving without using the pedals for a while. Class 3 e-bikes have a speed limit of 30 miles per hour. They are faster, and they may or may not have a throttle, depending on the brand.
Class 2 and 3 e-bikes are great for dirt roads and trails. Some e-mountain bikes (e-MTB) have grip-enhancing rubber tires that make them durable and more resistant to flat tires than a commuter-style e-bike. So if you're planning to get out into the wilderness more often, make sure you know what surfaces your e-bike can handle.
2. Bring a Trail Map
Trail maps help you navigate through an area. They also have specific instructions and information regarding the location.
Since you'll be taking an e-bike for trail riding, bring along a trail map with you. You can find trail maps online. If you're a beginner, it is recommended that you stick to small trails until you feel confident enough to hit the longer routes.
The same is advised for advanced or pro-e-bikers. A trail map can come in handy when you're in a pickle. It'll also say what classes of e-bikes are allowed on the trail and it will include roads, lanes, or singletracks where e-bikes are prohibited. Whatever you do, stick to the trail unless you want to get a ticket.
3. Give Space to Others
This is very important etiquette a rider must know when trail riding. You may be able to ride faster than others, but you should be considerate when passing them by. Let them know which side you'll pass on. This gives the other rider time to either shift or stops to move out of the way.
If you're a beginner, it is a good idea to stick to the side of the trail or hang back to let the faster riders pass. That way you don't have to move to the side, and you can enjoy trail riding at your own pace.
4. Carry Necessary Gear
Trail riding can quickly become rough on your e-bike. So, make sure you have all the necessary mechanical gear, such as spare tubes, tire levers, and a pump or air cartridge. You should be capable of fixing your e-bike if a problem occurs.
Dress according to the weather and bring an extra set of clothes just in case. Don't forget a first aid kit that includes bandages, non-latex gloves, dressings, a thermal blanket, etc. You should also bring a phone to call for help (though you might not get cell service) or a GPS device.
5. Carry-In and Carry Out Snacks
No matter where you are, it is always a good idea to make sure the environment remains clean. So, when you bring snacks, make sure you stow any trash in your bag and throw it out once you find a trash bin. This small gesture goes a long way in protecting the habitat for future generations.
If you're bike-riding with your family, educate them on littering and protecting the environment. That'll be good practice when riding on the trails and in their life.
6. Practice on Small Routes
First-timers and beginners can try out trail riding on smaller routes for practice. This has a few advantages.
You'll be able to find out your e-bike's strengths and weaknesses
You'll know what to expect on the trail
You'll know how to handle your e-bike in different terrains
Regarding what to expect on the trail, sometimes the longer routes have dirt or muddy or rough surfaces, making it difficult for you to maneuver. Always expect the unexpected. You never know when the weather will change your trail from a friendly track to a dangerous one. Check out the Tahoe East Shore Trail here.
7. Yoga Before Biking
Many mountain bikers do yoga before heading out on the trails. It creates awareness of your posture, develops upper and lower body strength, and provides tranquility.
Summing Up…
E-bike trail riding can be intimidating but a lot of fun! You can start on smaller, less dangerous tracks before heading toward a more challenging route. But before you do that, make sure you know what type of terrain your e-bike can handle.
Follow basic trail etiquette, such as giving way to faster bikers or letting slower bikers know you'll pass them. Don't litter; take a map, and stick to the trail. Keeping these few things in mind will ensure you a smooth and fun time e-bike riding.
Most Lake Tahoe Bike rental shops rent e-bikes for a half day and a whole day.
E-bikes on Trails in Lake Tahoe
The USFS LTBMU has released its Basin Wide Trails Analysis project document, which includes a proposal to allow Class 1 e-bikes on specific trails. More information.